We are very lucky to have some beautiful dog walks on our doorstep here in Faversham. Take a read below and discover some of the best places you can take your furry pal for a day out!
Harty Ferry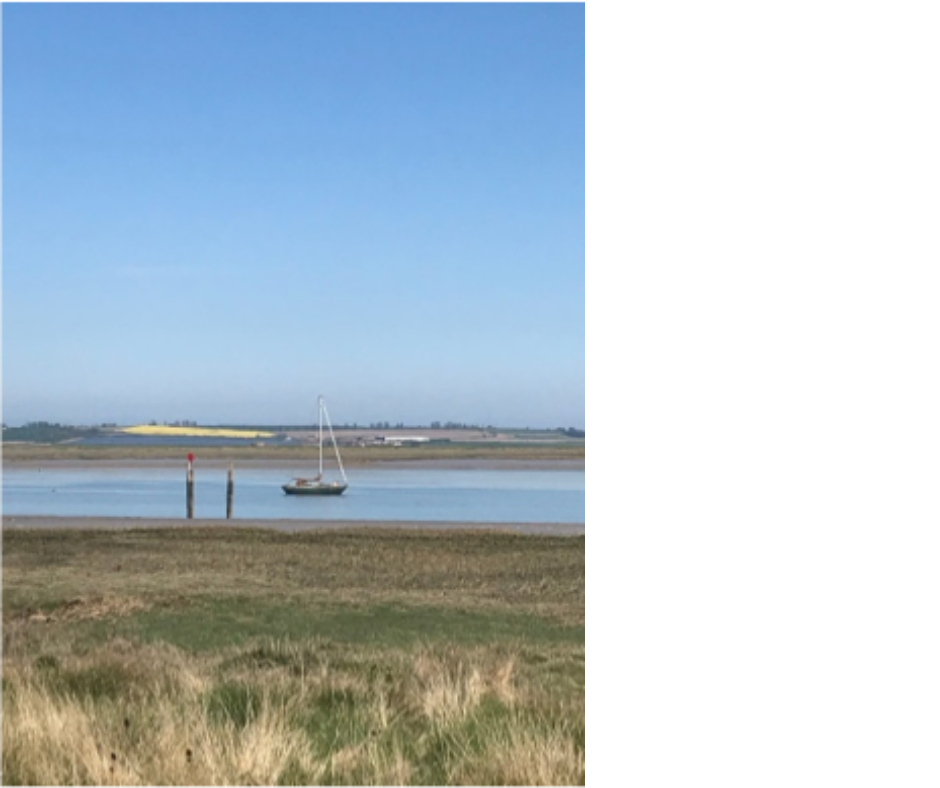 I'm going to start off with my favourite dog walk – Harty Ferry. It might be one of my favourites because I am very lucky enough to be a short 3 or 4 minute drive away, so for me it's right on my doorstep and very easy! Secondly, and more importantly, it's absolutely stunning and such a great place to take your dog!
You can find Harty Ferry at the end of a winding country road, past the lovely Three Mariners pub in Oare, and past St. Peter's Church and some beautiful houses along the way too. Once you get to the end of the road (you just keep going straight until there's no more road) there's plenty of free parking in quite a generous sized car park – but be warned this can get full up very quickly and you may have to park along the road at peak times. When you come out of the car park and face the waterfront (oh did I forget to mention it's situated on a stunning nature reserve overlooking the Swale Estuary?!) you have the choice of two different pathways, left and right. It's a bit of an unwritten rule that dog walkers go left, and the birdwatchers tend to go right, so we tend to naturally take a left. Once you go past the first gate, the whole walk is great for off the lead walks. There's a nice path for us humans to walk along, enabling you to take in the views of the surrounding nature reserve. Often, you will see cows, sheep, swans, all sorts of different birds, butterflies, frogs and if you're very lucky, occasionally seals too!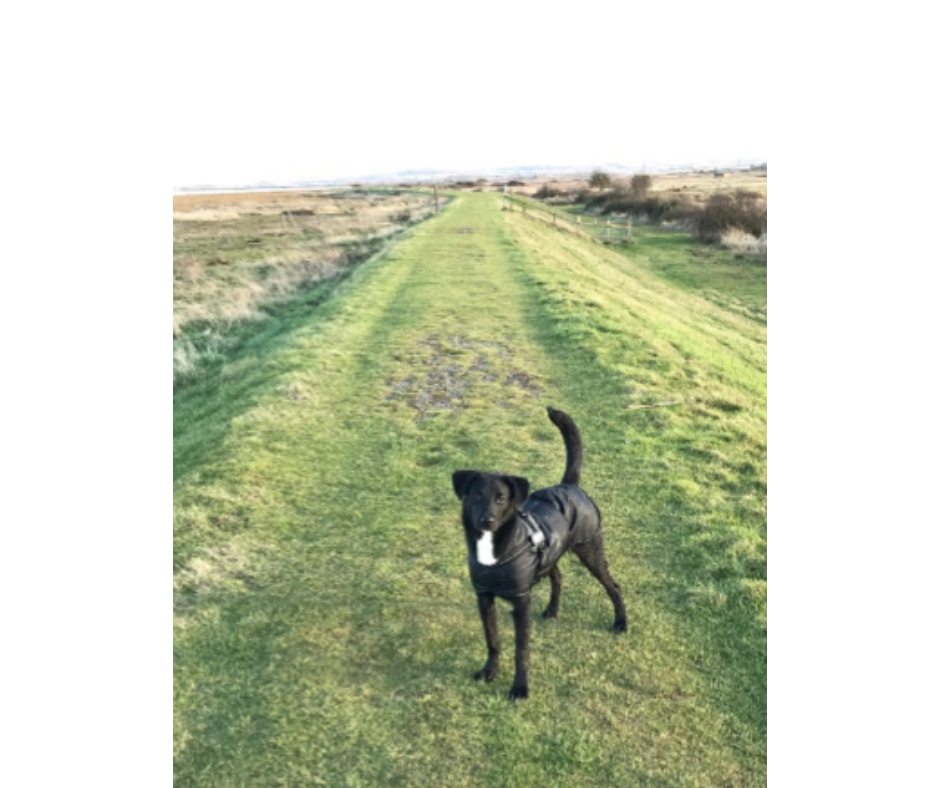 Our dog Molly loves to run alongside us down the verge, through the long grasses and more often than not, jumping into the little plunge pools of water to cool down. Please be aware that there are lots of opportunities for your dog to get their paws wet and probably muddy too, so it may be good to come prepared with a couple of towels in the car to dry them off at the end of the walk. If you're keen for a long walk, the path takes you along part of the Saxon Shore Way, which is a coastal circular loop of about 10 miles. It's a great opportunity to pack up a picnic and take in the scenery along the way.
Harty Ferry is a really relaxing, interesting and tranquil walk. There's plenty of space for everyone if it's a slightly busier day, however, some days you may not see another person the whole time. If you do bump into people, it's often they will have a dog too, and a great opportunity for the dogs to play and make new friends!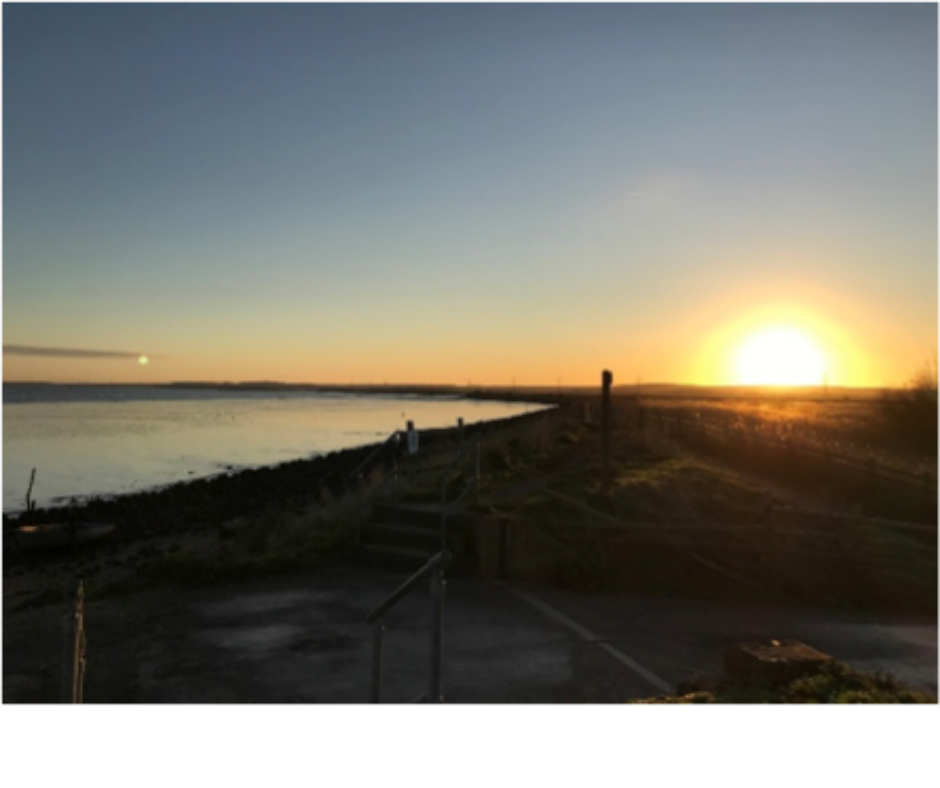 Pros:
The scenery is next level stunning. I have been there during some beautiful sunsets on a summers' evening, or first thing on a sunny, hazy morning and you feel like you could be abroad somewhere exotic with equally stunning views.
Plenty of free parking with no time restriction.
Safe for your dog, as there are no cars or busy roads during the walk.
A fresh water well (named George Oare-Well so I've heard!) at the start/end of the walk, so you can fill up your water bottles and re-hydrate!
Things to be aware of:
The car park can fill up very quickly at peak times and the road leading up to the parking area can be very uneven with large potholes – make sure your car has good suspension!
This walk is open to the elements! There is no shelter if it starts to rain and it can get quite cold and windy at times. When getting ready to go to Harty Ferry, I will always say that whatever the weather is like at home, it will be more extreme on the walk. For example, if it's a tad chilly at home, it will be freezing at Harty Ferry! Wrap up warm and wear sturdy walking shoes.
Bring your own refreshments. Apart from a fresh water well, there isn't anywhere to get tea or coffee if you are accustomed to a hot drink on your walk. Be prepared and bring a flask and some snacks if you're going for a long walk!
"Loop de loop" starting at Upper Brents and finishing on Ham Road.
This walk was a lockdown discovery that we didn't realise was also pretty much on our doorstep! We start the walk along Front Brents, just by the new creek bridge opposite the brewery. Walking along the Faversham creek, you will pass the fabulous Albion Taverna (cheeky margarita anyone?!)  as well as some cute little houses until you get to a little path which leads you through Brents Bank community garden and along Upper Brents. During April/May time, there are some stunning wild flowers which all come out to bloom and look absolutely beautiful, as well as a huge Willow tree which you see lots of children playing on. As you get to the end of the footpath, you can cross over just where Quayside Tyres are and it takes you round to some fields that lead you to a lovely walk along the creekside.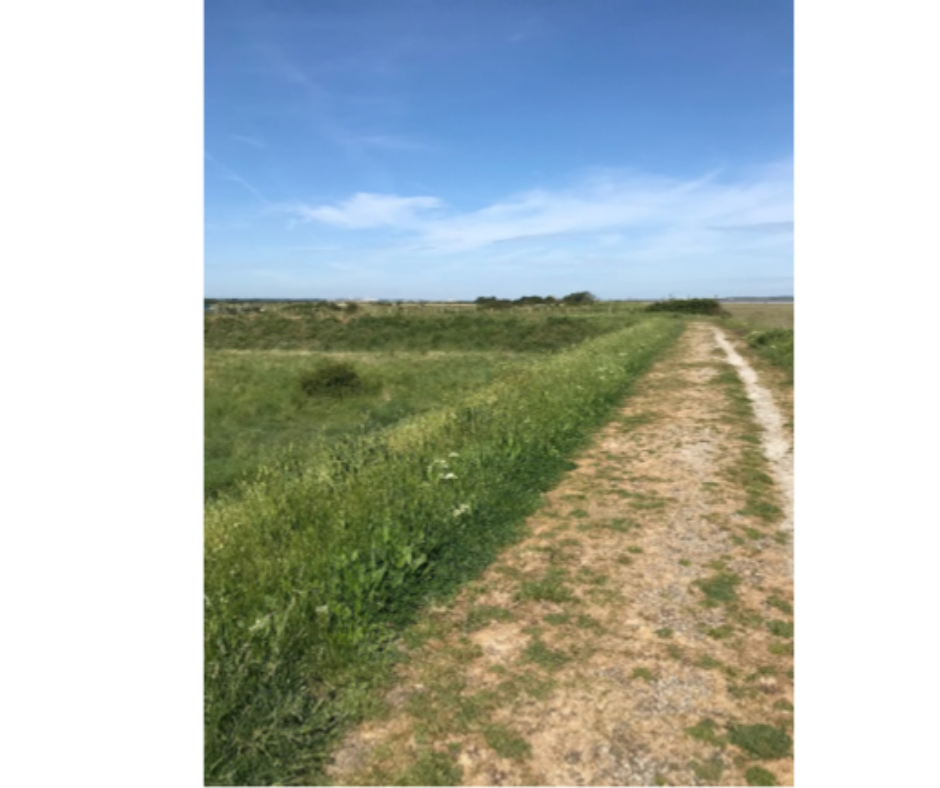 From here, you can walk in a huge "loop" along and around the creek. You can take your dog off the lead and there's a HUGE space for them to run and play. At times there are livestock in the fields, so please be mindful and pop your pooch on a lead if need be. The scenery is so interesting as the path takes you past Standard Quay, the Oyster Bay House (which is a grade two listed building) and the shipyard, which are all on the opposite side of the creek.  Keep your eyes peeled for an abandoned pirate ship named 'Revenge' which has been left stranded in the creek for many years! 
Like with most walks, you may decide to reach a certain point and then turn back, however with this walk you are able to complete a full circle. The walk will lead you right around the creek and past a lovely pub called the Shipwright Arms. We discovered this pub during one of our many "lockdown walks" so unfortunately it was closed every time we ventured past, but it is on our list of 'must visits' to enjoy a drink in the pub garden and have a little rest.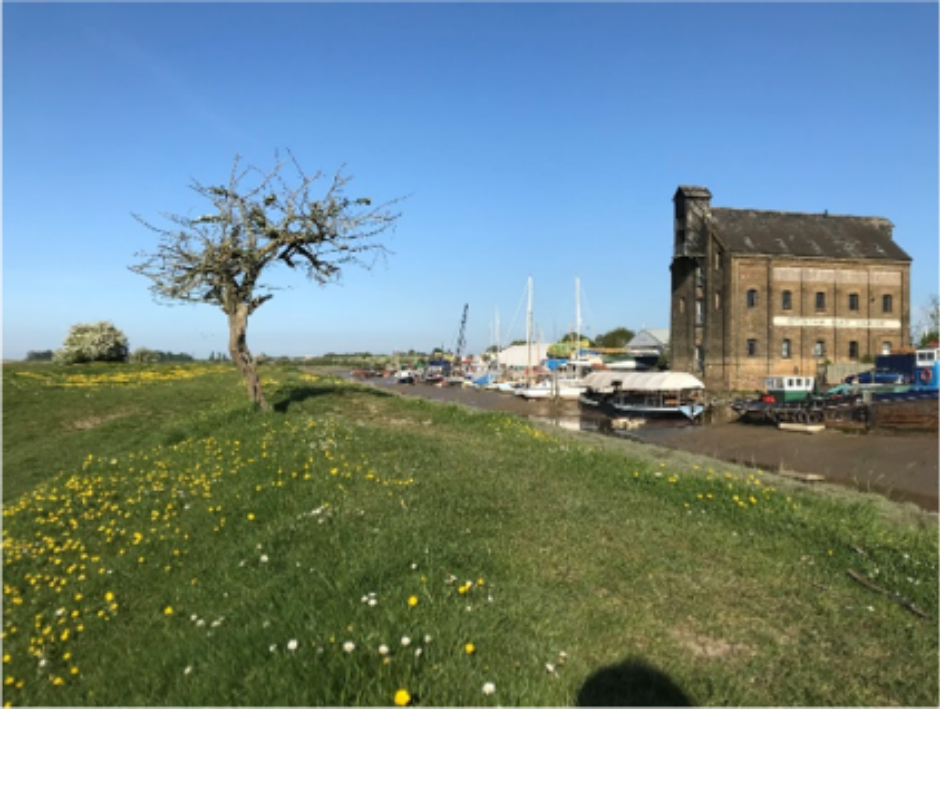 Pros:
A really interesting walk with lots of things to see and keep an eye out for (like abandoned pirate ships!)
Will wear your dog out if they are full of beans – there's plenty of space for them to run, play and sniff!
There's a couple of really lovely places to stop for a drink and a snack (The Albion, Shipwright Arms and Cafe by the Creek).
A few options where you can make the walk shorter if you wish to or have time constraints.
Things to be aware of:
Again this walk can be open to the elements and get quite windy and cold, so wrap up warm.
At the start of the walk alongside the creek (opposite the Oyster Bay house) the path is very uneven and an open invitation for twisted ankles – watch your footing.
There can be livestock in the fields at times, so please be aware of this and keep your dog on a lead.
Willpower is a must, if you pop in to The Albion at the start of the walk you might just decide to stay there and eat tacos instead!
Through Standard Quay, past the Iron Wharf boatyard and through Abbey Fields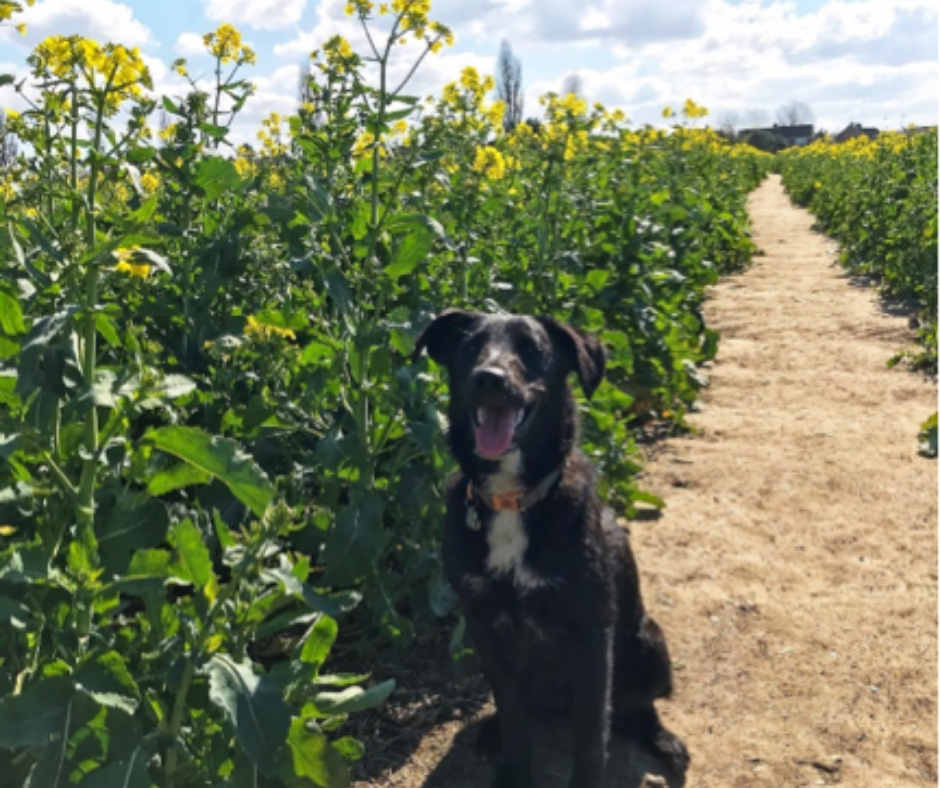 The great thing about dog walking in Faversham is that within a few minutes from the centre of the town, you are immersed in the glorious countryside and this walk is just a few minutes away from the hustle and bustle. We start this walk at the Standard Quay, which hosts some quirky little antique shops such as Aladdin's Cave, cute cafes, fishmongers, butchers and a new mouth watering pizza restaurant called Papa Bianco's.
If you carry on walking past all these lovely places you will come to the Oyster Bay House (as previously mentioned in the last walk) and you can cut through the Iron Wharf shipyard. Hop over the water via a little bridge and you are then in the midst of fields, open space and lots of fresh air! The first section of this walk is parallel to the previous "loop de loop" walk, so you will also pass the abandoned pirate ship (but you will be much closer to it on this side!)
You can continue on forwards (this will take you to the Saxon Shore Way) but if you would like a smaller route, you can turn right. This will take you along next to a pretty river and over a bridge round to Abbey Fields. During spring this is such a beautiful walk when the fields are FULL of rapeseed oil plants and other wildflowers all in bloom.
I would say about 80% of this walk can be off the lead or at least away from any cars and busy areas, however, the last part of the walk is along a road or back in pedestrian areas, so it's best for the pups to be on the lead. Halfway down the Abbey Fields road, there is a little cut through, which will take you past Gordon Square and alongside the Queen Elizabeth Grammar school, past St Mary of Charity church near Abbey Street, and voila – you are pretty much back to the start of the walk near the Quayside!
This lovely walk takes about an hour (give or take) so a great chance to stretch your legs and take in the beautiful surroundings closer to Faversham town centre.
Pros:
A quicker, shorter route closer to the centre of Faversham.
You pass some lovely local businesses in Standard Quay where you can get a cup of tea to take with you on the walk!
The area by the river is really pretty, and if your dog fancies a paddle, they can have a cool down swim.
Things to be aware of:
The last section of the walk is heading back towards Faversham, so you will be near roads and other pedestrians, so best to pop your dog on the lead for this part.
Victory Wood
Victory Wood is situated in between Faversham and Whitstable and has beautiful views over the Isle of Sheppey and the Thames Estuary. We have been here a few times and have discovered there are multiple routes you can take to explore with your dog, so every time you come you can do a different walk to keep things interesting.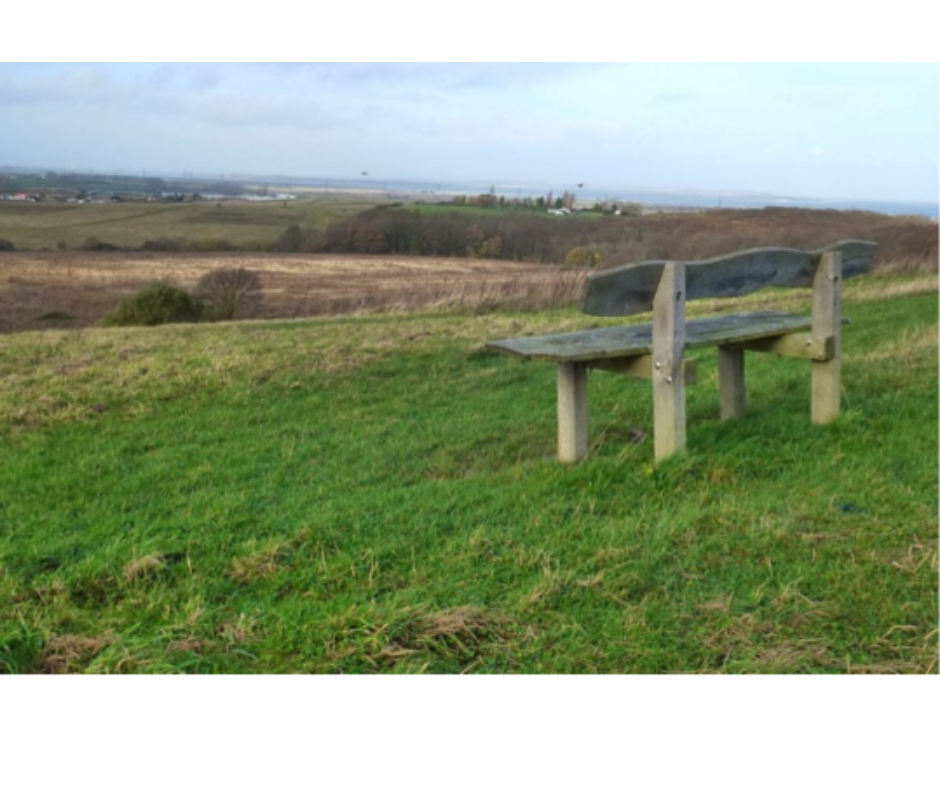 There is free ample parking and you are right next to the start of the walk, which is enclosed, so safe to let your dog off the lead if you wish to. The path you take is totally up to you. Some lead you through the beautiful woodlands, or if you prefer to stay in the open, there are plenty of routes that you can follow.
Pros:
Free parking with plenty of spaces
Lots of different route options to choose from
Stunning scenery to enjoy
Things to be aware of:
You will need to drive here as it is not walking distance from Faversham.
Can get very muddy when there has been wet weather (from experience!)
No shelter if it rains
Very few dog waste bins along the route – please remember to pick up and dispose in a bin.
Oare Gunpowder Works country park
Oare Gunpowder works is a beautiful little walk tucked away along The Western Link road and not far from Bysing Wood road. For a while we didn't even know this walk existed until a friend mentioned it, and we have now been many times to wander and explore.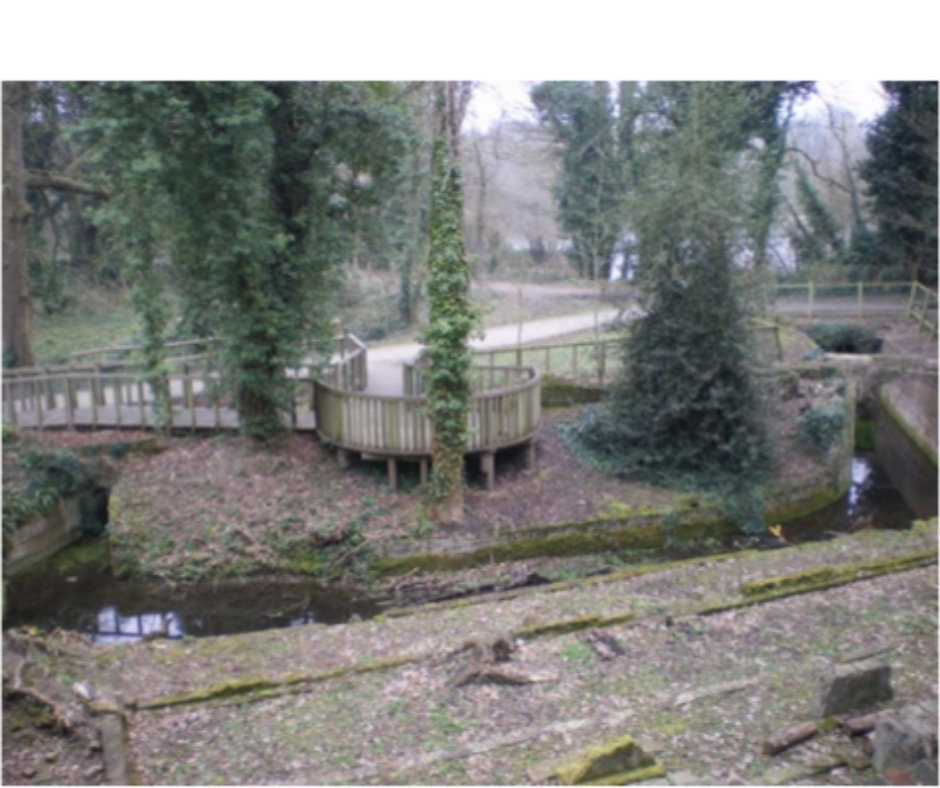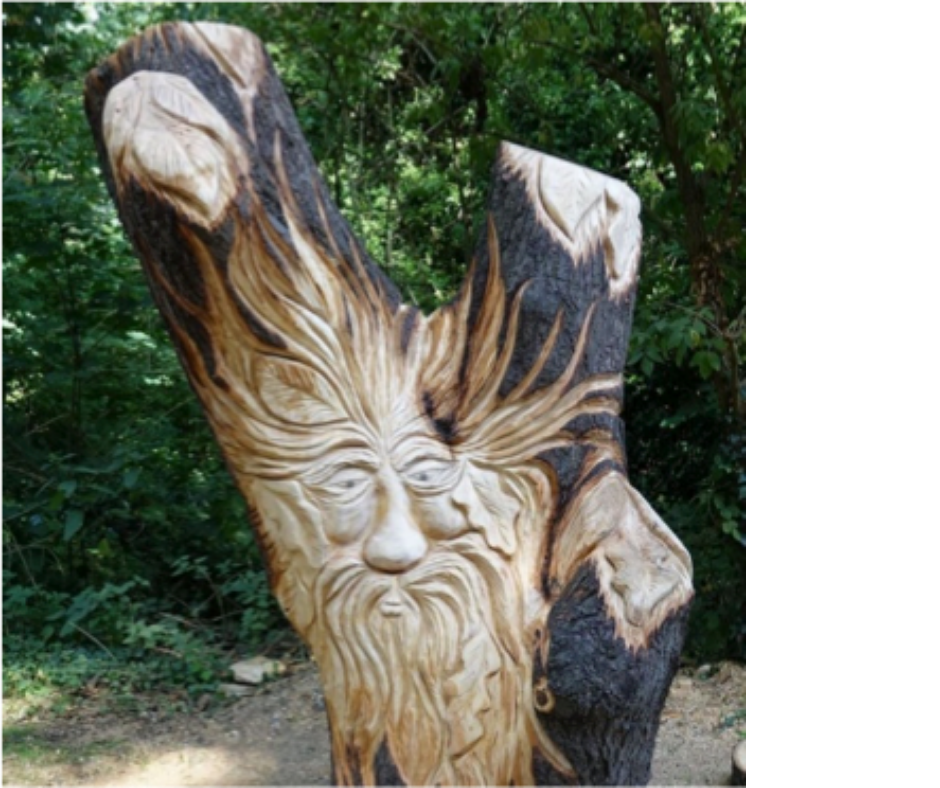 This enchanting walk is filled with plenty of heritage which you can read about as you walk around, as well as a visitors centre which also houses a lot more information about the site if you wish to learn more. As the name of this walk suggests, this area was a very important area for the Gunpowder industry in Faversham in the late 17th century up until 1934. You can still see a lot of the remains of the buildings and mills dotted about – which is now home to lots of birds, insects and creatures who live in the wetlands and plants which now thrive in the woodlands. Occasionally, there are live walk and talk sessions that take place in the country park, where you can learn more about the species that live in the woodlands and wetlands and if you're lucky, spot some of them too!
If like us you are naturally drawn to water, there are a couple of lakes and a wetland known as "the leats" which is a system of waterways that lead up to Lower Mill Pond. Here you can sometimes spot frogs, toads and newts. It is a great place to pack up a picnic and have a leisurely walk around discovering new and interesting parts of the woodland.

Pros: 
A really interesting place to visit, with lots of heritage and wildlife.
Free, generous parking area and toilets.
Great to bring the children as there are loads of things to look out for and to keep them entertained along the way.
Things to be aware of:
When the car park closes, they lock the gate so please ensure you leave by the requested time otherwise you may get locked in.
Best to keep your dog on a lead here in case there are other people walking around on the pathways or if there are people fishing in the lakes.
The visitor centre may be closed and the nature walks may currently be postponed due to the current pandemic, so please check beforehand if you are interested in these.